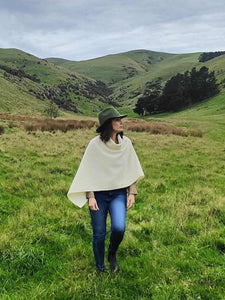 Natural beauty, natural drape, natural comfort.Become blissfully unaware of what you are wearing whilst feeling just right. Our Ladies Poncho is a spontaneous visual harmony of non-dyed natural yarn.
50% Bohepe, 25% Merino, 25% AlpacaMade in New Zealand, organically grown and scoured these ponchos are designed to keep you cosy.
Lightweight and warm with memorable stretch.Enjoy the sensory addiction of this unique and lovingly crafted yarn.Care instructions: Cool gentle hand wash with wool detergent. Wring dry in a towel. Tumble dry on a warm setting to bring back to shape if required.Packaged in a Wyld gift box. Perfect to store in when not in use.