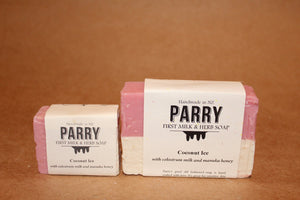 Hand-made, iconic New Zealand inspired natural exfoliating coconut beauty bar.
Naturally exfoliating desiccated coconut
One of our best sellers
Good for all skin types
Popular with young ones and as gifts
Added trace vitamins A, B1, B2, D and E.
Hand-blended using saponified oils of coconut, olive, rice bran, sustainable palm, sunflower, grape seed, sweet almond, avocado. Manuka honey, Bovine colostrum, essential and fragrance oils, natural herbs and plant material.
Achieved result: Smells like berry & coconut, gently exfoliates the skin, leaving you feeling refreshed.