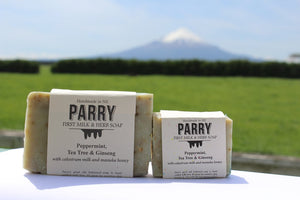 A mix of Peppermint, Tea Tree and Ginseng, Manuka honey and more. Hand-mixed
 with first-milk to bring you a wonderful beauty bar that is popular with everyone and especially people with dry and sensitive skin, and people who are troubled with psoriasis and eczema. 
Our best seller
Used by those with itchy, dry skin, rashes and acne
Popular for all
Added trace vitamins A, B1, B2, D, and E.
Hand-blended using saponified oils of coconut, olive, rice bran, sustainable palm, sunflower, grape seed, sweet almond, avocado. Manuka honey, Bovine colostrum, essential and fragrance oils, natural herbs and plant material.
Achieved result: Goes to work on skin issues such as acne, psoriasis, and eczema.