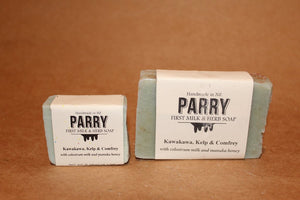 A blend of  Kawakawa and Comfrey herbs with New Zealand sea kelp, complimented with the woody warm and soft fragrance of sandalwood.
Great soothing beauty bar
Perfect for sensitive skin types
Fantastic results for psoriasis and acne users
Popular as a gift
One of our best sellers
Hand-blended using saponified oils of coconut, olive, rice bran, sustainable palm, sunflower, grape seed, sweet almond, avocado. Manuka honey, Bovine colostrum, essential and fragrance oils, natural herbs and plant material.
Achieved result: Soothes and helps repair skin issues.