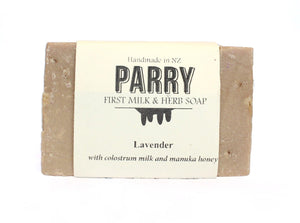 Lavender and Vanilla have relaxing and stress-reducing qualities. This popular beauty bar includes vanilla and the renowned qualities of lavender essential oil and is a little sweeter than lavender pure.
Relaxing qualities
Soft on all skin types
Loved by Women and Men
Popular as a gift
Whole lavender flower heads used
Hand-blended using saponified oils of coconut, olive, rice bran, sustainable palm, sunflower, grape seed, sweet almond, avocado. Manuka honey, Bovine colostrum, essential and fragrance oils, natural herbs and plant material.
Achieved result: Softens and relaxes the skin.
Lavender Pure is fragranced with pure lavender essential oil distilled locally by the Pihama lavender farm
Good for all skin types
Great as a gift
Added trace vitamins A, B1, B2, D and E and Manuka Honey.
Has excellent spreadability on the skin. 
Result: Leaves the skin feeling clean with a soft scent of lavender