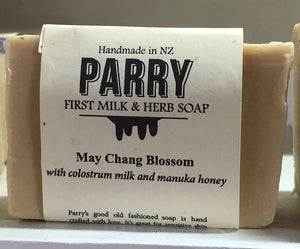 May Chang is a light, spicy, floral lemon aroma with a hint of Asian mystique, with added mandarin essential oil. Hand-blended with the aesthetic of Mt.Taranaki, New Zealand.
• 
Inspired by Mt. Taranaki, New Zealand
• 
Added trace vitamins A, B1, B2, D, and E.
Hand-blended using saponified oils of coconut, olive, rice bran, sustainable palm, sunflower, grape seed, sweet almond, avocado. Manuka honey, Bovine colostrum, essential and fragrance oils, natural herbs and plant material.
Achieved result: Soft effect on the skin, smells light and floral.
Large size only (approx. 120g).
No parabens, SLS, or EDTA. No animal testing.