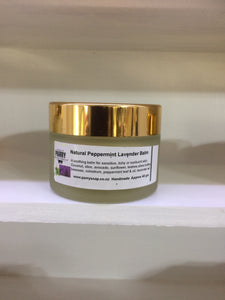 A soothing and healing balm using the cooling power of peppermint and the healing of lavender oil, beeswax and colostrum.100% Natural ingredients .
Developed initially as an aftercare for tattoo s both to sooth and heal new tattoos but also to sooth the effects of laser damage when having tattoos removed .
A good supplement for general healing and sunburn too.
Designed for daily use after washing with Parry soap, 
Totally natural moisturiser

Approximately 48 grams

Attractive glass jar

Good for all skin types
We use natural Taranaki beeswax from our local beekeeper, unrefined traditionally made Ghanian shea butter, pure virgin Fijian coconut oil, avocado and several other oils from New Zealand, our bovine colostrum, natural Vitamin D from lichen, plant material, essential  oils,  Rosemary oleoresin is used to support the mix