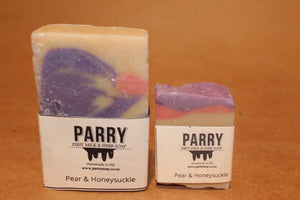 This is a fragrance combination we tried in the markets and it has been very popular.
Scent is a combination of smooth sun ripened pear and honeysuckle with hints of jasmine rose and lilac
Great for dry and sensitive skin
Hand-blended using saponified oils of coconut, olive, rice bran, sustainable palm, sunflower, grape seed, sweet almond, avocado. Manuka honey, Bovine colostrum, essential and fragrance oils, natural herbs and plant material.
Achieved result: silky feel with divine soft scent on your skin.