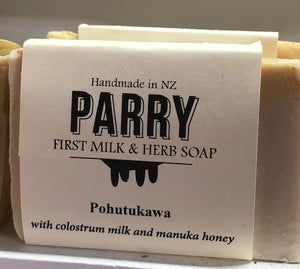 New Zealand Pohutukawa flowers mixed with the refreshing fragrances of bergamot, neroli, tangerine, patchouli, and jasmine with pohutukawa extract to make this fresh uplifting beauty bar.
• 
Good for all skin types
• 
Delicate romantic fragrance
Hand-blended using saponified oils of coconut, olive, rice bran, sustainable palm, sunflower, grape seed, sweet almond, avocado. Manuka honey, Bovine colostrum, essential and fragrance oils, natural herbs and plant material.
Achieved result: Fresh, uplifting and very refreshing.