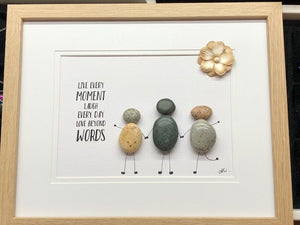 Size : Large
It all began one day when I was mentoring a young girl through a buddy program and we started painting rocks at the kitchen table. 
​I stared thinking "what else can I do with these?"
So I grabbed a glass of wine and began experimenting with pebbles and wood..... and here we are!
​The pebbles, rocks, driftwood come from a range of beaches and rivers in New Zealand with every piece of work being handmade by me. 
Hunting for the perfect pebble is all part of the fun! 
​Originally from Southland, I now live in Christchurch and love sharing my art for you all to enjoy. 
​I hope you love my art as much as I love making it.